Cooked plum and parsnip vegetarian side for roast dinners.
Plums and Parsnips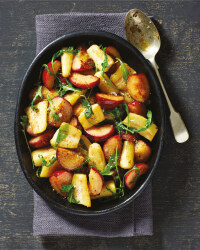 Recipe Information
Ingredients
3 Parsnips, peeled and trimmed
25g Greenvale Salted Butter
2 tbsp Specially Selected Extra Virgin Olive Oil
1 punnet (8) ripe Plums, halved, stones removed and then quartered
2 sprigs fresh Thyme
Large handful of Rocket
Method
Cut the parsnips into chunks around the size of the plum quarters.
Cook the parsnips in a pan of lightly salted boiling water until just tender.
Drain well.
Melt the butter and oil in a large frying pan and add the plums.
Cook for around 5 minutes until they start to soften.
Add the drained parsnips and thyme sprigs and cook for a further 3 or 4 minutes.
Remove the thyme.
Just before serving, stir in the rocket and season to taste.