This classic Roast Chicken recipe is a sure-fire hit for Sunday dinners.
Roast Chicken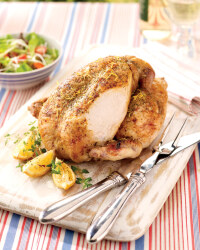 Recipe Information
Ingredients
1.65kg (Medium) Chicken
1 tbsp salt and pepper (to season)
1 Lemon halved + segments for garnish
1 tbsp Thyme (dried)
40g Butter (softened)
Find your ingredients online on Click & Collect or find your nearest store using our Store Finder.
Method
Heat oven to 190°C/Gas Mark 5.
Have a shelf ready in the middle of the oven without any shelves above it.
Season the cavity of the chicken liberally with salt and pepper, then stuff with the lemon halves and thyme.
Sit the chicken in a roasting tin and smother the breast and legs all over with the butter, then season the outside with salt and pepper.
Place in the oven and leave, undisturbed, for 1 hr 45 mins - this will give you a perfectly roasted chicken.
To check the chicken is cooked, pierce the thigh with a skewer and the juices should run clear.
Remove the tin from the oven and, using a pair of tongs, lift the chicken to a dish or board to rest for 15-20 mins.
As you lift the dish, let any juices from the chicken pour out of the cavity into the roasting tin.
Serve with roast potatoes and seasonal vegetables.