Roast Lamb with Rosemary, Garlic and Honey Glaze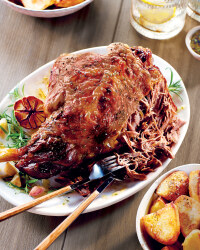 Recipe Information
Ingredients
1 Whole Leg of Lamb
2 Whole Garlic Bulbs
8g Fresh Rosemary
250ml water
Glaze ingredients
6g Fresh Rosemary, finely chopped
3 large Garlic Cloves, peeled and minced
50ml Honey
Juice and zest of ½ lemon
Method
Pre-heat the oven to 200oC/400oF/Gas Mark 6. Put the leg of lamb into a roasting dish just big enough to hold it.
Cut the garlic bulbs in half and stuff around the lamb along with the rosemary. Pour over the water.
Cook uncovered for 30 minutes, then turn the heat down to 160oC/325oF/Gas Mark 3. Cover loosely with foil and cook for a further 3 hours.
Mix together all the ingredients for the glaze Turn the heat back to 200oC/400oF/Gas Mark 6, take off the foil and brush with the glaze.
Cook for another 20 minutes, basting every 5 minutes.
Great served with steamed spring vegetables and new potatoes.