White-wine soaked for sumptuous flavour.
Salmon with Herb Tomato Baked in Foil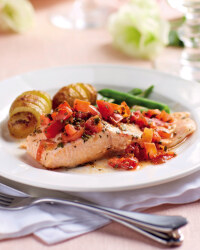 Recipe Information
Ingredients
1 x 280g pack Salmon Fillets
130g Baby Plum tomatoes
Juice of ½ lemon
2 x teaspoons Stonemills Dried Parsley
50ml Baron St Jean white wine
Black pepper
1 x 360g pack Baby potatoes with herb butter
100g Garden Peas
100g Green beans
Find your ingredients online on Click & Collect or find your nearest store using our Store Finder.
Method
Pre-heat the oven to 200°C/400°F/Gas Mark 6.
Chop the tomatoes finely.
Mix together the chopped tomatoes, lemon juice, parsley and white wine, season with some black pepper.
Get two large pieces of foil; scrunch up the sides to make a bowl shape, put a fillet of salmon in each, divide the tomato mixture between them both, seal the top of the tin foil.
Put the two foil cases on a baking sheet and bake in the oven for 20 mins.
Put the baby potatoes in a pan of boiling salted water and cook for 10 minutes and then drain.
Meanwhile, bring a small pan of salted water to the boil and cook the peas and green beans for 5 mins - drain.
Remove the salmon and tomatoes from the oven and serve with the potatoes and green vegetables.