Classic Scotch pancake recipe with berries and maple syrup. Great for breakfast.
Scotch Pancake with Berries and Maple Syrup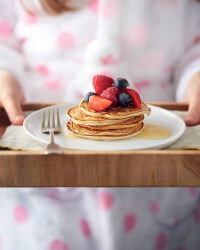 Recipe Information
Ingredients
100g Plain Flour
50g Caster Sugar
1 large Egg
50ml Milk
Pinch of Salt
A little Sunflower Oil
500g Fresh Mixed Berries – Raspberries, Strawberries and Blueberries
Maple Syrup
Method
Put the flour, sugar and salt into a large mixing bowl and whisk with a balloon whisk to get rid of any lumps.
In a mixing jug whisk the egg and milk together.
Pour this into the flour mix, stirring as you do and beat well until you have a smooth batter.
Grease a non-stick frying pan with a little oil.
Using a dessert spoon, ladle a spoonful of the batter into the pan.
With the back of the spoon make it into a circle.
Cook until it starts to bubble, flip over and cook the other side.
Keep them warm while you cook the rest – should make 12 pancakes.
Serve a stack of 3 per person, topped with berries and drizzle over some maple syrup.