Everybody will love this nutritious and delicious Veggie Lasagne.
Slow Cooker Veggie Lasagne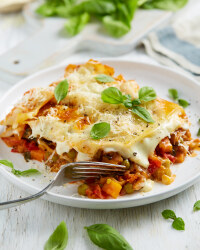 Recipe Information
Ingredients
4 Carrots
1 Pepper
2 Celery Sticks
1 Chilli, approx. 6g
5g Fresh Basil Leaves
100g Spinach Leaves
100g Curly Kale
1 Red Onion
160g Split Red Lentils
1 tsp Paprika
2 tsp Dried Oregano
60ml Olive Oil
500g jar Cucina Tomato
480g jar Cucina Creamy White Sauce
6 Lasagne Sheets
200ml Boiling Water
Sea Salt and Black Pepper
Method
Peel and chop the onion.
Chop the pepper into small chunks – discard any white pith or seeds.
Peel and finely chop the carrots.
Wipe the celery and finely chop.
Finely chop the chilli and discard any seeds.
In a large frying pan sauté the pepper, onion, carrot, chilli and celery in the olive oil for about 10 minutes, until softened.
Add the tomato sauce, lentils, spinach, kale, oregano, paprika and boiling water and cook gently for a further 10 minutes.
Season with some salt and pepper, add the torn basil leaves and mix well.
Put half the mixture in the bottom of the slow cooker.
Top with 3 of the lasagne sheets, breaking them to fit over the sauce.
Then top with the remaining sauce and the other 3 lasagne sheets.
Pour over the white sauce, use the back of a spoon to cover the lasagne sheets.
Cook on low for 4 hours.
Allow to stand for 10 minutes, then serve.