These pastries bring the excitement to any party.
Strawberry Millefuille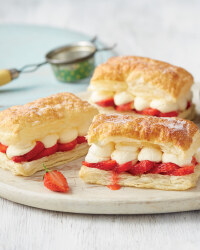 Recipe Information
Ingredients
1 x 375g Roll Greenvale Puff Pastry
1 Medium Egg Yolk
10ml Milk
1 tsp Caster Sugar
300ml Double Cream
150g Delicious Desserts Ready-Made Custard
500g Strawberries
Find your ingredients online on Click & Collect or find your nearest store using our Store Finder.
Method
Pre-heat the oven to 190°C/375°F/Gas Mark 5.
Roll out the pastry and cut into five 8cm strips lengthways.
Cut these in half to give you ten oblongs.
Mix the egg yolk with the milk and brush over the tops.
Sprinkle over the caster sugar.
Put the oblongs on a lightly greased baking tray.
Bake in the oven for 10 minutes until golden brown and risen. Allow to cool.
Whip the cream until thick then fold in the custard.
Wipe, hull and slice the strawberries.
Split the pastries in half, divide the custard cream and strawberries between them then serve.