Delicious for dinner but also makes a great cold lunch the next day.
Stuffed Aubergines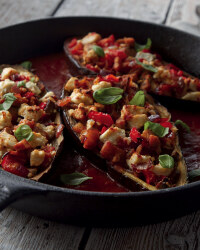 Recipe Information
Ingredients
2 aubergines, halved length ways
3 tbsp Solesta Sunflower Oil
For the filling
1 clove garlic, grated
1 red onion, diced
¼ tsp Stonemill Ground Cumin
¼ tsp Stonemill Ground Turmeric
600g vine tomatoes, quartered
240ml water
2 tbsp chopped coriander, plus sprigs to garnish
20g Specially Selected Manchego Cheese (optional)
Find your ingredients online on Click & Collect or find your nearest store using our Store Finder.
Method
Preheat the oven to 180°C/gas mark 4.
Score the flesh of each aubergine half with a sharp knife.
Place on a baking tray, drizzle with 2 tablespoons of sunflower oil.
Bake in a preheated oven for 40-45 minutes until the flesh is soft.
Meanwhile, make the filling.
Heat the remaining oil in a large pan and sauté the garlic, onion and cumin for 1 minute.
Once the oil is absorbed, add the tomatoes and one-third of the water.
Leave to simmer on a medium/high heat for 15 minutes until the mixture has reduced and the tomatoes are soft and saucy.
Take the aubergines out of the oven and carefully scoop out the flesh, leaving the skin intact.
Roughly chop the flesh and add this to the tomato mixture.
Cook for a further 5 minutes and then add the coriander.
Spoon the filling into the aubergine skins and either serve as they are or finely grate some manchego over the top and return to the oven until melted.
Sprinkle over some sprigs of coriander and serve with a salad.