Enjoy your favourite winter dishes the lighter way, with these delicious, healthy recipes. With just a few smart ingredient swaps, you can cut the fat, sugar and calories in a range of dishes the whole family will love.
Super Stew and Dumplings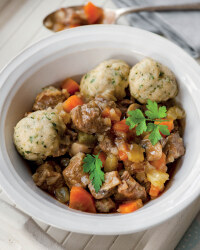 Recipe Information
Ingredients
2 tsp Vegetable Oil
280g Lean Braising Steak, cut into chunks
450ml Vegetable or Chicken Stock
2 medium Onions, chopped
2 cloves of Garlic, crushed
2 Carrots, cut into chunks
2 Celery Sticks, sliced
250g Closed-cup Mushrooms, halved
2 tbsp fresh Parsley, chopped
100g Self-raising Flour
50g Reduced-fat Spread
1 pinch Ground Black Pepper
Method
Heat the vegetable oil in a large flameproof casserole dish or saucepan.
Add the beef, a handful at a time, and cook over a high heat for about 2-3 minutes until sealed and browned.
Pour the stock into the pan, then add the onions, garlic, carrots, celery and mushrooms.
Bring to the boil, then reduce the heat.
Cover and cook over a low heat for 11/2 hours, checking the liquid level from time to time, and topping up with a little water if needed.
To make the dumplings, sift the flour into a bowl and add the parsley and some black pepper.
Add the reduced-fat spread to the flour, then rub in with your fingertips until the mixture looks like fine crumbs.
Add just enough cold water (about 2 tbsp) to make a soft dough.
Knead the dough lightly for a moment, then form into 12 small dumplings.
Add the dumplings to the stew, letting them sit on the surface.
Cover and cook for another 25-30 minutes, until the dumplings are light and fluffy, then serve.