Prosecco cocktail recipe made with clementine, brandy and caster sugar.
Sweet Dreams Cocktail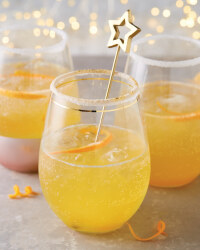 Recipe Information
Ingredients
1 Clementine, juiced
35ml Brandy
2 tsp Caster Sugar
Exquisite Prosecco DOCG
Method
Dip the rim of a glass in clementine juice and caster sugar.
Put the rest of the clementine juice in the glass with the brandy.
Stir with a cocktail spoon.
Top with Prosecco and finish with a clementine rind.