Homemade vegan gratin made with coconut milk, lentils, sweet potato slices and spinach.
Sweet Potato and Spinach Gratin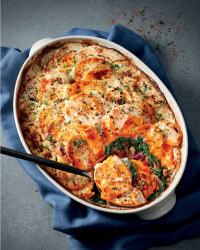 Recipe Information
Ingredients
700g Sweet Potatoes
4 large Vine Tomatoes
250g pouch Good Grains Delicious Lentils
120g Spinach
200g Coconut Milk
1 heaped tsp Paprika
2 cloves Garlic
2 Red Onions
30ml Rapeseed Oil
Sea Salt and Black Pepper
Oblong deep dish – approx. 30 x 15cm
Method
Pre-heat the oven to 200°C/Gas Mark 6.
Peel the red onions, cut in half and slice thinly.
Peel and mince the garlic.
Sauté the onion slices and the garlic in the oil in a frying pan for 5 minutes on a low light.
Put the lentils in a bowl and add the sautéed onions.
Chop the tomatoes and add to the mix – stir well.
Peel the potatoes and slice thinly.
Put half the lentil mix in the bottom of the dish, then layer half the spinach leaves on top. Top them with half the sweet potato slices. Then, repeat this step.
Mix the coconut milk with the paprika and season with some salt and black pepper.
Drizzle this over the top layer of sweet potatoes.
Bake in the oven for 60 minutes.