Tandoori Chickpea and Courgette Burgers
Tandoori Chickpea and Courgette Burgers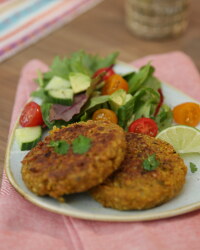 Recipe Information
Ingredients
1 small onion, diced
1 garlic clove, crushed or grated
2 tbsp coconut oil
1 x 400g tin of chickpeas, rinsed and drained
½ courgette, grated
1 tbsp peanut butter
1–2 tbsp UHT Almond Milk
50g GF oats
½ tsp turmeric
½ tsp ground cumin
½ tsp chilli powder
Salt and black pepper
Method
Fry the onion and garlic in a teaspoon of the coconut oil until soft and translucent.
Place the chickpeas in a food processor along with the courgette, milk, oats, peanut butter and fried onion and garlic, then season to taste.
Pulse until they are combined, but not completely smooth, to retain a bit of texture.
Divide the mixture into 5 or 6 palm-sized burgers.
Place on a tray in the fridge for 30–60 minutes to firm up.
Preheat the oven to 180°C/350°F/gas mark 4.
Heat the remaining coconut oil in a non-stick frying pan and cook the burgers for about 5–10 minutes on both sides to crisp up the outside and seal in the moisture.
Place the burgers on a tray lined with greaseproof paper and bake in the oven for 20–25 minutes.
Serve these up with a salad of your choice. We recommend lettuce, tomatoes, sprouts and avocado.