A bona fide classic prawn dish. Perfect party food.
Tempura Prawns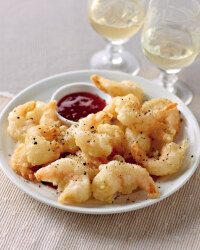 Recipe Information
Ingredients
1 x 200g Bag Specially Selected Frozen Raw Jumbo King Prawns
75g The Pantry plain flour
50g The Pantry cornflour
Pinch salt
120ml Aqueo iced sparkling water
Asia Sweet chilli sauce - to serve
Solesta sunflower oil
Method
Defrost the prawns and pat dry.
Make sure that your sparkling water is very cold.
Heat some oil in a deep fryer or in a large saucepan (needs to be one-third full of oil) to 190 deg - or until a cube of bread - starts to brown in 30 seconds.
Mix the two flours together and the salt - add the cold sparkling water till you have a nice thick batter - put in the prawns and coat with batter - fry quickly in the oil for 3/4 mins - till brown and crisp - drain and serve with the chilli sauce.