Crispy battered King Prawns served with soy and sweet chilli sauces for dipping.
Tempura Prawns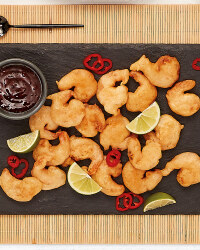 Recipe Information
Ingredients
180g pack Specially Selected Jumbo King Prawns, defrosted
75g Plain Flour
20g Corn Flour
Large pinch Baking Powder
Large pinch Chilli Powder
130ml Soda Water, chilled
Juice of ½ Lime
50ml Sweet Chilli Sauce
50ml Soy Sauce
Salt
Vegetable Oil to fry
Method
Add all the flour to a mixing bowl with the baking powder, chilli powder and a sprinkle of salt.
Add the soda water and the lime juice and mix through with a fork – if it's a bit lumpy that's OK.
Heat the oil in a deep frying pan until it reaches 150°C – drop a small cube of bread into the oil, when it sizzles it's ready.
In the meantime, pat the prawns dry and dip into the batter.
Fry in the oil for 5 minutes until just coloured, then drain well.
Mix the soy and sweet chilli sauces together and serve alongside the prawns as a dip.