This easy-to-make dessert combines decadent cheesecake and classic tiramisu.
Tiramisu Cheesecake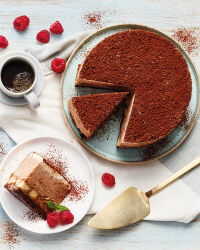 Recipe Information
Ingredients
Base
150g Bourbon Biscuits
50g Salted Butter
1 tsp Instant Coffee
Cake
2 x 250g packs Mascarpone Cheese
280g Madeira Cake
140ml Amaretto
50g Caster Sugar
200g Milk Chocolate
1 tsp Vanilla Essence
300ml Double Cream
2 tsp Instant Coffee
7g Cocoa Powder
50g grated Milk Chocolate
Method
Pre-heat the oven to 200°C/Gas Mark 6.
Line the base of the cake tin with some non-stick baking parchment.
Break up the biscuits and put into a food processor along with the instant coffee and pulse to crumbs.
Melt the butter and mix in with the breadcrumbs.
Line the base of the cake tin with the buttery crumbs and bake in the oven for 15 minutes. Allow to cool.
Dissolve the remaining coffee in the boiling water and add 80ml of Amaretto.
Break up the madeira cake in a bowl and pour over the coffee mix.
Stir well and pour on the biscuit base.
Break up the chocolate into a heatproof bowl with the caster sugar and the remaining Amaretto.
Place over a pan of boiling water to melt the chocolate ensuring the bottom of the bowl does not touch the water. Remove the bowl from the water once melted.
Whip the cream until just holding its shape, put a third of the cream, the mascarpone and the vanilla essence in with the melted chocolate and whisk until smooth.
Pour this on top of the sponge in the cake tin and refrigerate for 60 minutes.
When set, top with the remaining cream, the grated milk chocolate and dust with the cocoa powder.