A classy gin-based classic for those with a refined palate.
Tom Collins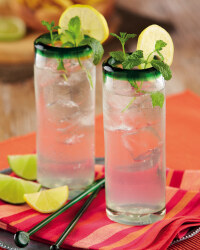 Recipe Information
Ingredients
Juice of ½ Lemon
1 ½ tsp The Pantry Caster Sugar
2 shots Oliver Cromwell London Dry Gin
Vive Soda Water
Ice Cubes
Method
Shake the lemon juice, gin and sugar in a cocktail shaker.
Strain into a tall glass.
Add ice and soda water.
Garnish with a lemon slice.