These turkey burgers are a hit with kids and adults alike - plus they're healthier than your average burger.
Turkey Burgers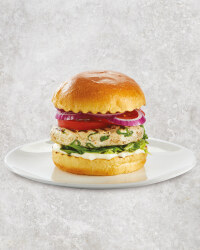 Recipe Information
Ingredients
450g pack British Turkey Mince
4 Spring Onions
70ml Brooklea Natural Yogurt
100g Fresh White Breadcrumbs – (2 slices Village Bakery White Bread)
Salt and Black Pepper
4 pack Village Bakery Brioche Rolls
Lettuce, Tomato and Mayonnaise to serve
Find your ingredients online on Click & Collect or find your nearest store using our Store Finder.
Method
Wash and trim the spring onions, and chop into thin slices.
Put the mince, spring onions, breadcrumbs and yogurt in a large bowl.
Season with a little salt and plenty of black pepper, and mix well.
Divide the mixture into 4 and roll into balls.
Flatten into burger shapes, and put into the fridge to rest for 10 minutes.
Pre-heat the grill and cook the burgers for 8 minutes each side.
Serve on the Brioche rolls with crisp lettuce, sliced tomato, red onion and some Bramwells mayonnaise.