These turkey burgers are a hit with kids and adults alike - plus they're healthier than your average burger.
Turkey Burgers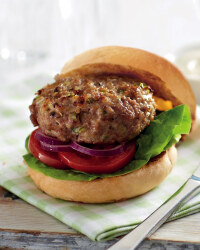 Recipe Information
Ingredients
450g pack British
Turkey Mince
4 Spring Onions
70ml Brooklea Natural Yogurt
100g Fresh White Breadcrumbs – (2 slices Village Bakery White Bread)
Salt and Black Pepper
4 pack Village Bakery Cheese Topped Rolls
Method
Wash and trim the spring onions, chop into thin slices.
Put the mince, spring onions, breadcrumbs and yogurt in a large bowl, season with a little salt and plenty of black pepper, mix well.
Divide the mixture into 4 and roll into balls, flatten into burger shapes, put into the fridge to rest for 10 minutes.
Pre-heat the grill and cook the burgers for 8 minutes each side – serve on toasted split cheese rolls with crisp lettuce, sliced tomato and red onion and some Bramwells mayonnaise.