Who says turkey is only for Christmas? This tasty Carbonara-inspired recipe makes a delicious dinner.
Turkey Carbonara with Crispy Potato Wedges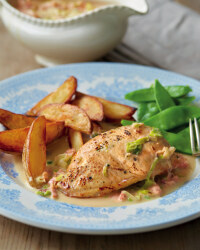 Recipe Information
Ingredients
1 x 375g pack British Turkey Steaks
4 slices Smoked Back Bacon
25g Greenvale Salted Butter
500g White Potatoes
150g Leeks
130ml Solesta Sunflower Oil
180ml Double Cream
120ml Vermentino White Wine or Water
1 Quixo Chicken Stock Cube
1 teaspoon Trois Lys Dijon Mustard
1 teaspoon Stonemill Paprika
30g Specially Selected Parmigiano Reggiano
150g pack Mangetout
Salt and Black Pepper
Method
Preheat the oven to 200°C/400°F/Gas Mark 6.
Cut the potatoes into wedges – no need to peel.
Put into a saucepan, cover with cold water, add some salt then bring to the boil and cook for 5 minutes.
Drain well.
Put 120ml oil into a roasting dish and heat in the oven, when hot add the potato wedges and roast for 30 minutes, turning once whilst cooking.
Meanwhile put the turkey steaks onto a baking tray, dot with the butter and season with a little black pepper then roast for 20 minutes.
To make the sauce – thinly slice the leeks and wash well – then drain.
Slice the bacon thinly.
In a large frying pan or wok, heat the remaining oil, add the bacon and leeks and cook, stirring for about 6 minutes until the bacon is slightly browned.
Add the wine or water and crumble in the stock cube, add the mustard, cream, Parmigiano Reggiano and paprika then mix well.
Season with some black pepper.
Cook the mangetout in some slightly salted boiling water for 3 minutes and drain.
Divide the turkey steaks between 4 plates, pour over the sauce and serve alongside the potato wedges and mangetout.