Give your children a hearty start to the day and get them out of the door in a flash with our kid-friendly breakfast suggestions.
Warm Fruit with Greek Yogurt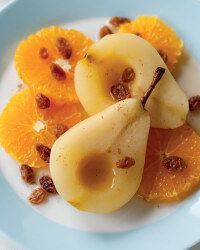 Recipe Information
Ingredients
4 ripe Pears peeled, halved and cored
30g Sultanas
200ml Unsweetened Apple Juice
½ tsp Ground Mixed Spice (optional)
2 Oranges
4 slices Sliced Fruit Bread
4 tbsp Low Fat Greek-style Natural Yogurt
Method
Put the pears and sultanas or raisins into a saucepan with the unsweetened apple juice and mixed spice (if using). Heat and simmer gently for 10 minutes, or until the pears are tender.
While the pears are cooking, peel the oranges with a sharp, serrated knife to remove all the peel and pith, then cut into segments. When the pears are ready, remove from the heat and add the orange segments.
Toast the slices of fruit bread. Share the pear mixture between 4 bowls and top each portion with 1 tbsp 0% fat Greek yogurt. Serve with the toasted fruit bread.
Tip 1: Choose pears that aren't too ripe or too hard.
Tip 2: Use regular low fat yogurt instead of the low fat Greek variety.
Tip 3: Another time, make the recipe with 8 plums instead of pears.