The perfect whole baked salmon with a delicious herb and lemon butter rub.
Whole Lemon and Herb Baked Salmon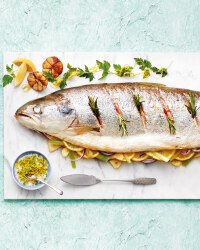 Recipe Information
Ingredients
1 x Whole Salmon – 2-3kg
2 x Lemons
5g fresh Rosemary
10g fresh Parsley
3 x sticks Celery
3 x cloves Garlic
100ml White Wine
1 x Red Onion
80g Salted Butter at room temperature
Black Pepper
Method
Pre-heat the oven to 200°C/Gas Mark 6.
CutWipe the inside of the cavity of the salmon with some kitchen roll. Put the salmon onto a large baking tray.
Peel and slice the garlic. Slice the celery lengthways into thin strips. Peel, halve and thinly slice the red onion. Grate the rind from the lemons, then slice them thickly.
Stuff the cavity of the salmon with the sliced lemons, celery, garlic, red onion and half the parsley. Chop the remaining parsley and rosemary finely. In a bowl, add the chopped herbs, lemon rind, some ground black pepper and the butter, then mix well.
Cut 6 thick slices in the top of the salmon – down as far as the bone. Rub the herb and lemon butter into the cuts and over the top of the salmon. Drizzle over the white wine. Cover loosely with some tin foil and bake in the oven for 45 minutes.
Test that the fish is fully cooked by inserting a knife into the spine of the fish – if the knife feels warm then the fish is cooked. If not, return to the oven and cook for a further 15 minutes, then test again.
Remove from the oven and allow the fish to rest for 5 to 10 minutes. If you prefer, remove the head, fins, gills and tail before serving and gently peel off the skin. Cut into individual portions.