Simple and delicious vegetarian main for the whole family to enjoy together.
Aubergine Parmigiana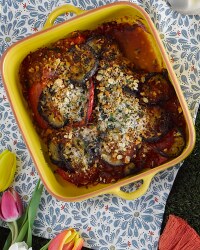 Recipe Information
Ingredients
3 Aubergines
1 Small Red Pepper
1 Medium Red Onion
8g Fresh Basil
25ml Olive Oil
2 x 400g tins Chunky Chopped Tomatoes with Herbs
1 flat tsp Chilli Powder
80g Plain Flour
40g Specially Selected Parmigiano Reggiano Cheese
40g Salted Butter, at room temperature
Juice from 1 Lemon
Sea Salt and Black Pepper
Olive Oil, to drizzle
Method
Pre-heat the oven to 200oC/400oF/Gas Mark 6.
Thinly slice the aubergines then place them in a single layer on a large baking tray.
You will have to do this in batches. Drizzle plenty of olive oil over the slices then bake in the oven for 15 minutes.
To make the sauce, peel and finely chop the onion, cut the pepper in half, remove and discard the seeds and any white pith, then chop finely.
Heat the olive oil in a medium saucepan, gently cook the chopped onions and peppers for about 10 minutes.
Roughly chop the basil and add to the pan along with the tinned tomatoes, lemon juice and chilli powder.
Season with some salt and black pepper and cook with a lid on for 15 minutes.
Layer the aubergine slices and tomato sauce in an ovenproof dish.
Grate the cheese and put in a bowl along with the butter and flour then rub the mixture together until it resembles rough breadcrumbs.
Sprinkle over the top of the aubergines.
Bake in the oven for 25 minutes.