These classic pancakes come with an exciting, indulgent twist.
Banana & Hazelnut Chocolate Pancakes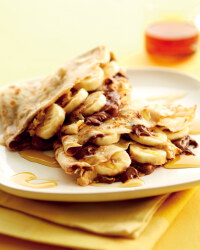 Recipe Information
Ingredients
Nutoka Chocolate Hazelnut Spread
Grandessa Peanut Butter
Banana
Maple Syrup
Find your ingredients online on Click & Collect or find your nearest store using our Store Finder.
Method
Use the classic pancake mix to make your pancakes.
Then spread with Nutoka chocolate hazelnut spread and Grandessa peanut butter.
Add chopped banana, sprinkle with Maple Syrup and serve.