An Indian inspired dish using new potatoes coated with spices and bursting with flavour.
Bombay Potatoes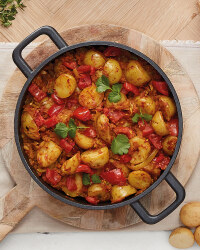 Recipe Information
Ingredients
800g Baby Potatoes
1 large Onion
2 Garlic Cloves
6 large Vine Tomatoes
55ml Sunflower Oil
2 Green Chillies
2 tsp Ground Coriander
½ tsp Turmeric
1 tsp Ground Cumin
2 tsp Curry Powder
25g Fresh Ginger
Sea Salt and Black Pepper
5g Fresh Coriander
Method
Peel the ginger and the garlic and chop.
Roughly chop the tomatoes.
Place all 3 into a food processor and blitz to a purée.
Cut the potatoes in half, cook in some salted water for 10-15 minutes until tender and drain well.
Heat the oil in a large frying pan or wok.
Peel and slice the onion and fry until golden.
Finely chop the chillies, keeping the seeds if you want a hotter dish.
Add to the pan, along with the ground coriander, turmeric, cumin and curry powder and season with some salt and plenty of black pepper. Cook on a low light for 2 minutes.
Add the tomato purée and potatoes.
Cook gently for a further 10 minutes, stirring as you cook, until heated through.
Serve with freshly chopped coriander sprinkled over the top.