Spruce up the drinks list with this little dazzler, garnished with pomegranate and lime.
Bombay Rum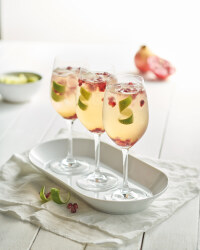 Recipe Information
Ingredients
50ml rum
1/2 pomegranate
20ml fresh lime juice
1 tbsp sugar
Tonic water top
Method
Add the rum, sugar and lime into a shaker.
Shake.
Put the pomegranate seeds into a wine glass with ice.
Pour over the cocktail shaker contents and top with tonic water.
Garnish with a lime twist or more pomegranate seeds.