This classic gourmet dinner choice will bring a decadent taste of the Orient to your dinner table.
Butterfly King Prawns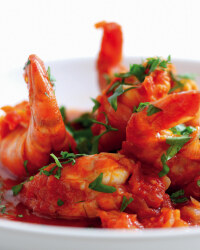 Recipe Information
Ingredients
16 freshwater prawns
2 tbsp olive oil
1 small onion, finely chopped
1 clove of garlic, chopped
1 ½ 10g vegetable stock cube
2 x 400g cans of chopped tomatoes in juice
1 tbsp granulated sugar
2 tbsp vinegar, red wine is best, but any will do
2-3 tbsp chopped parsley
Salt and pepper
Find your ingredients online on Click & Collect or find your nearest store using our Store Finder.
Method
Heat the oil, then add the onion and garlic, cook for 2-3 minutes.
Add the tomatoes, stock cube, sugar, vinegar and salt and pepper.
Cook for 15-20 minutes or until thick and really tasty.
Finally add the parsley.
To cook the prawns, remove from the freezer and open.
Drop the frozen prawns into the finished sauce and simmer for 10-15 minutes, or until lightly cooked.
Serve the hot stew evenly into 4 bowls or plates.
Top with the cooked prawns and a little extra olive oil.
Top Tips: These frozen prawns can be dropped into any simmering sauce and will cook in 15 minutes.
Cook until the shells turn pink, this ensures the prawns will be cooked.
Great threaded onto skewers and griddled or fried, so you can replicate the barbecue indoors if it's raining.
Great with our Specially Selected Raw Jumbo King Prawns