Double Choceur Hot Chocolate drink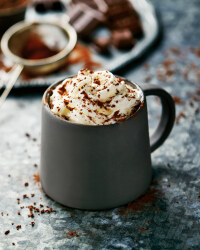 Recipe Information
Ingredients
25g Choceur instant hot chocolate drink
4 x squares (28g) Choceur creamy dark chocolate
180ml boiling water
Cowbelle aerosol real dairy cream
Cinnamon
Method
Finely grate the dark chocolate – put a little to one side to sprinkle.
Put the hot chocolate powder and the grated chocolate into a mug.
Pour over the boiling water and stir to melt.
Squirt over the top with the aerosol cream.
Sprinkle with the remaining grated chocolate and a little cinnamon and serve.