Get that festive feeling with a classic Hot Holiday Punch.
Hot Holiday Punch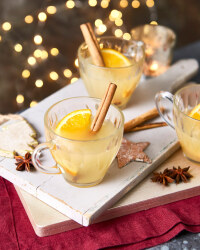 Recipe Information
Ingredients
100ml Haysmith's London Dry Gin
Easy on the alcohol? Opt for Haysmith's 0% Rhubarb and Ginger Spirit Drink
1 Specially Selected Lemon & Ginger Tea Bag
150ml Apple Juice
50ml Lemon Juice
2 tbsp Sugar
1 Cinnamon Stick
2 Whole Cloves
To Garnish:
1 Orange
1 Lemon
Method
Bring all ingredients together in a pan, cover and bring to the gentlest of simmers. Stir occasionally to ensure the sugar has dissolved. Simmer for around 7 minutes – do not let it boil.
Once the flavour is bright and aromatic, strain out the cinnamon and cloves and pour into a tumbler or teacup.
Garnish with a slice of orange and lemon.