A zesty and sweet chicken with rustic garlic flavours and a delicious bacon stuffing.
Lemon, Honey and Garlic Roast Chicken with Bacon Stuffing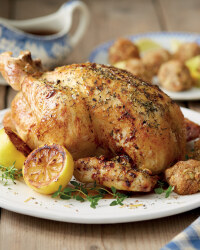 Recipe Information
Ingredients
Specially Selected Whole Chicken - approx. 1.5kg
2 Lemons
40ml Grandessa Squeezy Honey
65g Greenvale Salted Butter
1 tsp Stonemills Thyme
1 tsp Stonemills Garlic Granules
1 small Onion
3 slices Everyday Essential medium sliced White Bread
2 rashers Specially Selected Back Bacon
1 tsp Stonemills Sage Sea Salt and Black Pepper
Find your ingredients online on Click & Collect or find your nearest store using our Store Finder.
Method
Pre-heat the oven to 190°C/375°F/Gas Mark 5.
Cut one lemon in half and put it in the chicken cavity.
Squeeze the juice from the second, put in a small saucepan along with the butter, garlic granules, thyme and honey - gently heat through to melt the butter.
Line a roasting dish with some foil.
Put the chicken in and pour over the warm butter and lemon mix.
Roast in the oven for about an hour, basting every 15 minutes.
Test the chicken is cooked by inserting a skewer into the thigh of the bird - if the juices run clear then it's cooked - if not, return to the oven for a further 15 minutes and check again.
Remove the lemon from the bird, allow to rest for 15 minutes, covered with some foil before carving.
To make the stuffing, peel the onion, halve and chop finely.
Tear up the bread slices. Chop the bacon finely.
Put the onion, bread, bacon and sage into a food processor, season with a little salt and some black pepper and pulse until well-blended.
Shape the stuffing into 8 balls.
Bake in the oven for 15 minutes and serve with the chicken.