Add some spice to your meal this Spring with this exotic Middle Eastern dish.
Middle Eastern Lamb Pilaf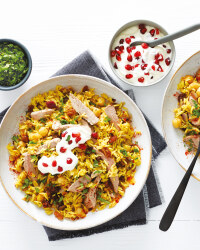 Recipe Information
Ingredients
400g leftover Lamb Strips (shoulder or leg)
300g Basmati Rice (uncooked)
600ml Chicken Stock
400g Chickpeas
1 Red Onion
2 Cloves of Garlic
90g Sultanas
50g Flaked Almonds
2 tbsp Curry Powder
1 tsp Ground Cumin
1 tbsp freshly chopped Parsley
1 tbsp freshly chopped Mint
1 tbsp freshly chopped Coriander
1 tbsp Olive Oil
6 tbsp Greek Yogurt (to serve)
80g Pomegranate seeds (to serve)
Method
Finely chop the onion and garlic.
Heat the olive oil in a pan and sauté the onion and garlic for 10 minutes until softened.
Add the curry powder and ground cumin to the pan, mix with the onion and garlic and let the ingredients cook together for a minute.
Next add the lamb and rice and mix until the spices have covered the meat and rice.
Add the stock and chickpeas and then cover and leave to simmer for 15 minutes until the stock has absorbed and the rice is cooked.
Stir in the sultanas and flaked almonds and then sprinkle over the herbs.
Serve with a tablespoon of yogurt drizzled on top of each portion, and sprinkle with pomegranate seeds.