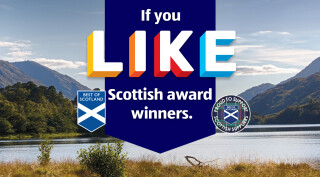 Explore the best Scotland has to offer
We're proud to say our locally sourced products have won multiple awards for their outstanding quality over the years. This includes everything from craft gin wins to salmon success. So, if you need another reason to shop our amazing Scottish range in store, you'll find a few here.
Awards we've brought home
You'll find a huge range of Scottish products in your local Aldi and lots of them are award-winners! Have a look at the big wins we've had for quality and value here.
12 Year Old Speyside Single Malt

Toradh Rhubarb & Ginger Gin

Eidyn Scottish Craft Gin
Rubus IPA

Anti Establishment IPA

Specially Selected Jersey Milk
Specially Selected Oatcake Bites - Lockerbie Cheddar

Specially Selected Orkney Caramel Shortbread

Specially Selected Shortbread Rounds – Lemon
Specially Selected Vintage Cheddar

Specially Selected Scotch Aberdeen Angus Ribeye Steak

Chilli & Ginger Infused Salmon Fillets
Specially Selected Scotch Aberdeen Angus Dry Aged Steak Burgers

Specially Selected Black Pudding

Specially Selected Scotch Steak & Porter Ale Pie
Specially Selected Sundried Tomato, Lentil & Smoked Paprika Soup

Specially Selected Chicken Balmoral

Botanical Project Passion Fruit & Coconut Gin
Botanical Project Plum & Pink Grapefruit Gin

McQueen Pink Gin

Specially Selected All Butter Shortbread Rounds
Specially Selected Shortbread Fingers

Specially Selected Dark Chocolate & Orange Ginger Biscuit

Specially Selected Caramelised Red Onion & Balsamic Vinegar Chutney
Specially Selected Scottish Isles Sea Salt & Caramel Ice Cream

Specially Selected Scotch Ultimate Burgers

Specially Selected Scottish Wild Venison Steaks
Specially Selected Scottish Pork & Arran Mustard Sausages

Specially Selected Chicken, Leek & Arran Mustard Pie

Specially Selected Haggis Truffles with Peppercorn Sauce
Specially Selected Scotch Steak & Black Pudding Pie

Specially Selected Haggis En Croute

Specially Selected Scotch Galloway Beef Joint with Ayrshire Bacon