Mulled Wine Brownies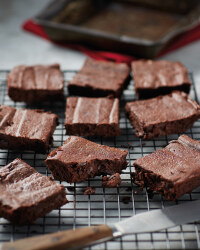 Recipe Information
Ingredients
150g Unsalted butter
200g The Pantry light brown sugar
120g Dark chocolate
100g Plain flour
50g Cocoa powder
1/2tsp Ground ginger
3/4tsp Ground cinnamon
1 large Egg and yolk
75ml Red wine
Pinch of salt
Method
Preheat the oven to 160°c.
Line a 20x20 baking tray.
Melt the chocolate.
Mix the flour, cocoa powder, salt and spices in a separate bowl.
Beat the butter and sugar together until light and fluffy.
Beat in the egg and yolk.
Mix in the melted chocolate and red wine.
Fold in the flour mix.
Spread in the baking tray and cook for 20 minutes.