Juicy pork in a delicious sauce with all your favourite vegetables.
Pork Hot Pot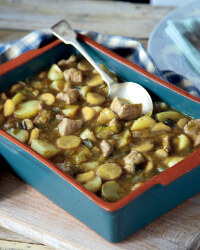 Recipe Information
Ingredients
360g pack Diced Pork
2 Red Onions
2 Leeks
3 Parsnips
750g new potatoes
2 Quixo chicken stock cubes
1 tsp Stonemill dried parsley
1 litre water
Salt and pepper
Quixo chicken gravy granules
A little Solesta sunflower oil
Find your ingredients online on Click & Collect or find your nearest store using our Store Finder.
Method
Peel the onion and parsnips.
Chop the onions into small pieces.
In a large saucepan, add a little oil and fry the pork and onion to seal the meat, add the water, parsley and the stock cubes and bring to the boil.
Meanwhile cut the parsnips into rings and add to the pan.
Trim the leeks and cut into rounds - wash well to remove any grit and add to the pan, season with salt and pepper, cover with the lid and simmer for 40 minutes.
Cut the potatoes into quarters or halves depending on size.
Add these to the pan; add a little more water if necessary, so that the potatoes are covered in the stock.
Cook for a further 20 minutes, check that the potatoes and meat are tender, thicken the stock with about a dessert spoon of gravy granules and serve.