Flaked salmon and seasoned tomato sauce baked with fusilli and cheddar cheese topping.
Salmon and Broccoli Pasta Bake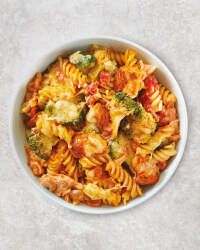 Recipe Information
Ingredients
220g Fusilli Pasta
185g pack Cooked Salmon Fillets
220g bag Tender Stem Broccoli
400g tin Chopped Tomatoes
1 Red Onion
2 Garlic Cloves
1 heaped tsp Paprika
1 Vegetable Stock Cube
100ml Boiling Water
150ml Crème Fraîche
Juice of ½ a Lemon
50g Mature Cheddar Cheese, grated
25ml Olive Oil
Sea Salt and Black Pepper
Find your ingredients online on Click & Collect or find your nearest store using our Store Finder.
Method
Pre-heat the oven to 180°C/Gas Mark 4.
Cook the pasta in some salted boiling water for 10 minutes, then drain.
Meanwhile, peel and chop the onion finely.
Peel and mince the garlic.
Sauté the onion and garlic in the oil for a few minutes.
Add the tomatoes, paprika, crumbled stock cube, boiling water and lemon juice and bring to the boil.
Chop the broccoli into small pieces, then add to the pan, cover and simmer for 5 minutes.
Add the crème fraîche and flake in the salmon, discarding the skin.
Season with some salt and pepper.
Put the cooked pasta into an ovenproof dish and pour over the sauce, mixing well.
Sprinkle over the grated cheese and bake in the oven for 15 minutes.