You can buy salmon fillets quite economically now. Try serving them with mash flavoured with spring onions and chopped fresh parsley.
Salmon with Spring Onion Mash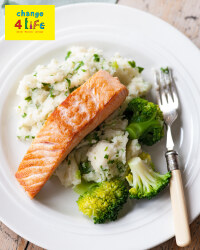 Recipe Information
Ingredients
1kg potatoes, peeled and cut into chunks
6 spring onions, finely sliced
1 tsp vegetable oil
4 salmon fillets
4 tbsp 1% fat milk
2 tbsp fresh parsley, chopped
250g broccoli, broken into florets
1 pinch ground black pepper
Method
Cook the potatoes in boiling water for 20 minutes, until tender, adding the spring onions to the saucepan 5 minutes before the end of cooking time.
When the potatoes have been cooking for 10 minutes, start to prepare the salmon.
Heat the vegetable oil in a non-stick frying pan, brushing it over the surface. Add the salmon, skin side down.
Cook over a high heat for 2-3 minutes, without moving the fillets.
Turn the salmon over, reduce the heat and cook for a further 3-4 minutes.
At this point, put the broccoli on to cook in a little boiling water - it will take about 5-6 minutes.
Let the salmon rest for a few minutes while making the mash.
Drain the potatoes and spring onions and mash thoroughly.
Beat in the milk and parsley.
Reheat on the hob for 1 minute, beating well.
Share the mash between four warmed plates and arrange the salmon fillets on top.
Serve with the broccoli.
Recipe provided by Change4Life