Easter skewers served with a Greek yogurt, garlic and lemon juice dip.
Serrano Cod Skewers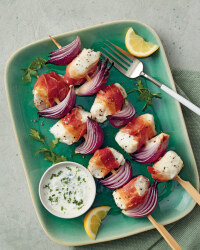 Recipe Information
Ingredients
2 x 280g packs Cod Loins
8 Slices of Serrano Ham
2 Red Onions
Juice of 1 Lemon
35ml Olive Oil
120g Greek Yogurt
1 Garlic Clove
3g Fresh Parsley
Sea Salt and Black Pepper
4 bamboo or metal skewers – if using bamboo skewers soak in cold water for 30 minutes before using.
Method
Mix half of the lemon juice with the olive oil, then season with some black pepper. Cut each cod loin into 4 pieces. Put the cod chunks and the olive oil mix together in a bowl and coat well. Allow to marinate for 20 minutes.
Meanwhile peel and mince the garlic and finely chop the parsley. Put the yogurt in a bowl, add the remaining lemon juice, garlic and chopped parsley, season with a little salt and some black pepper and mix well. Cut the onions in half and peel, then cut each half into 3 wedges. Cut each slice of Serrano ham in half lengthways and wrap each piece of cod in a slice of ham.
Put 4 pieces of cod and 4 wedges of red onion on each skewer, alternating them. Pre-heat the grill to high and grill the skewers for 10-12 minutes , turning once during cooking.
Serve alongside the yogurt. Great served on a bed of Tomato and Sweet Pepper risotto.