This classic Italian pasta dish is perfect for both lunch and dinner.
Spaghetti Carbonara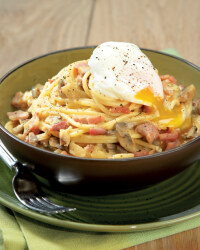 Recipe Information
Ingredients
500g Spaghetti
400g pack Smoked Back Bacon Rashers, chopped
2 tbsp Olive Oil
300g tin Sliced Mushrooms, drained
1 tsp Dried Parsley
1 tsp Hot English Mustard
75ml Double Cream
50g Parmigiano Reggiano Cheese, grated
1 tbsp Malt Vinegar
4 Medium Eggs
Find your ingredients online on Click & Collect or find your nearest store using our Store Finder.
Method
Bring a large saucepan of water to the boil, season with salt and add the spaghetti and cook as per pack instructions.
Meanwhile to make the sauce fry the bacon in a large frying pan in 1 tbsp olive oil until just cooked, (approx. 3 minutes).
Then add the mushrooms and warm through, (approx. 2 minutes).
Stir in the parsley, mustard, a pinch of black pepper and the double cream.
When the spaghetti is cooked, drain and mix with the sauce and parmesan cheese.
In a medium saucepan boil some water, add the vinegar and break the eggs in the boiling water and cook for about 2 minutes, until the egg white is firm.
Serve a portion of the spaghetti with a poached egg on top.