Bake your heart out with this show-stopping Speckled Easter Nest Cake sandwiched with a superb layer of lemon, buttercream and raspberry jam.
Speckled Easter Nest Cake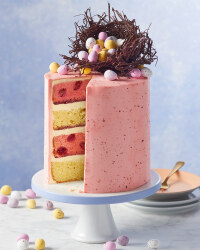 Recipe Information
Ingredients
340g Self Raising Flour
340g Caster Sugar
340g Unsalted Butter, softened
6 x Medium Eggs
2 tsp Baking Powder
2 tbsp Milk
½ tsp Salt
1 tsp Pink Food Colouring
125g Raspberries
½ Lemon Juice and Zest
300g Raspberry Jam
For the Icing:
1kg Icing Sugar
300g Unsalted Butter, softened
200g Mascarpone
1 tbsp Vanilla Extract
1 Lemon, juiced
½ tsp Salt
3-4 drops Pink Food Colouring
200g Dark Chocolate
Mini Eggs
2 x 15cm Deep Cake Tins
Method
Pre-heat the oven to 190°C/170°C Fan/Gas Mark 5. Grease and line the cake tins.
Mix the butter and sugar until light and fluffy. Add the eggs, one at a time, until smooth.
Fold through the flour, baking powder, salt and milk.
Split the mixture between 2 bowls. Add raspberries and pink food colouring to one.
Add lemon juice and zest to the other. Spoon each mixture into a separate tin.
Bake for 30-40 minutes, or until a cocktail stick comes out clean. Then cool for 10 minutes.
Turn out of the tins and leave to cool completely.
Make the buttercream by beating the butter until light, smooth and fluffy.
Gradually mix in the icing sugar.
Then add the mascarpone, lemon juice and salt and beat until smooth.
When cooled, halve the cakes to create 4 layers.
Place a lemon layer on a dish. Top with buttercream and raspberry jam.
Add a raspberry cake layer. Repeat until all 4 layers are stacked.
When done, coat it all with a thin layer of buttercream. Leave to chill for 30 minutes.
Add food colouring to remaining buttercream. Spread another layer over the cake and smooth.
Melt the chocolate and flick it over the cake for a speckled look. Leave to chill for 30 minutes.
For the chocolate nest, make a ball of tin foil.
Use a spoon to drizzle the remaining chocolate over the ball.
Leave to harden in the fridge. Remove the foil and top the cake with the nest.
Fill with mini eggs.