Quick, easy and very satisfying, make this vegetarian snack as sweet and spicy as you like.
Stuffed Sweet Potatoes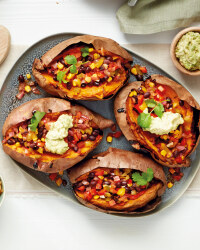 Recipe Information
Ingredients
4 x large Sweet Potatoes
1 x pack 3 Mixed Peppers
2 x medium Red Onions
1 x Green Chilli, approx. 12g
2 x cloves Garlic
100g tinned Sweetcorn, drained
1 x 390g tin Black Beans
1 x 200g tub Salsa
100g Houmous
1 x ripe Avocado
1 x Lime
8 x Black Olives
2 tsp Paprika
Sea Salt and Black Pepper
Olive Oil
Method
Pre-heat the oven to 200°C/Gas Mark 6.
Wipe and then prick the potatoes several times with a fork. Put onto a baking sheet and bake for 45 minutes until tender.
Meanwhile, make the stuffing. Peel, halve and finely chop the onions. Peel and mince the garlic. Finely chop the peppers, discarding any white pith and seeds. Finely chop the chilli – keep the seeds if you want a hotter dish.
In a large frying pan or wok, sauté the onions, peppers, garlic and chilli in 40ml olive oil for about 15 minutes, until tender.
Drain the beans and sweetcorn and add to the pan along with the salsa.
Sprinkle over the paprika and season with some salt and pepper.
Cook for another 10 minutes.
Peel the avocado, remove the stone and scoop out the flesh.
Mash the flesh with a fork, squeeze the juice from half the lime and mix together, then mix this with the houmous.
Cut the sweet potatoes lengthways and scoop out some of the flesh. Put this in with the bean mixture and stir in.
Fill the potatoes with the mixture, then top with the avocado houmous.
Top each half with an olive, drizzle with a little olive oil and serve with a lime wedge.