Sugar and Spice and all things nice… rum, sherry, mint, lime and thyme.
Sugar and Spice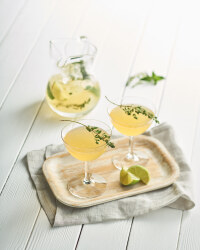 Recipe Information
Ingredients
50ml spiced rum
20ml sherry
6 mint leaves
4 pieces of thyme
1 tbsp sugar
20ml fresh lime juice
Method
Add the sugar and lime into mixing glass.
Add the rum and mint then stir until the sugar is dissolved.
Next, add the thyme, sherry and ice.
Stir 20 times to dilute the drink and pour into a chilled glass.
Garnish with thyme.