Vanilla martini served with strawberries in a white chocolate dipped cocktail glass.
Sweetie Martini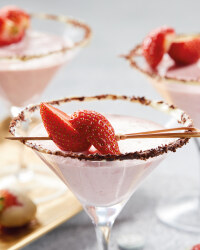 Recipe Information
Ingredients
170g Strawberries, sliced
140g Vanilla Ice Cream
2tsp Vanilla Extract
70ml Triple Distilled Vodka
150g Ice
To garnish:
30g White Chocolate
2 Strawberries
15g Dark Chocolate, grated
Method
Place the white chocolate in a heatproof bowl and melt by heating in short bursts in a microwave.
Dip the rims of the 2 martini glasses in the melted chocolate and sprinkle with the dark chocolate shavings.
Place the martini ingredients in a blender and blitz until smooth. Decant into the 2 glasses and top with a strawberry. Serve immediately.