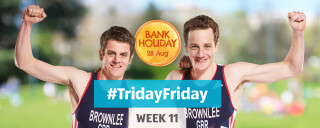 Bank Holiday celebrations
The late August Bank Holiday – your last chance for a get together outdoors! Simply perfect for garden picnics and enjoying sensational summer wines, so check out our great selections. The Brownlee brothers' big challenge is to find the best alternative burger. For Jonny it's the Tandoori Chickpea. For Alistair, Salmon and Cod wins every time. Either one will make your August Bank Holiday, so get ready to enjoy it!

Celebrate the last few weeks of summer and the last Bank Holiday of the year with a delicious BBQ. Pop in store for all of your BBQ essentials and seasonal produce!

Our amazing range of Garden Specialbuys are just what you need to keep things neat and tidy as Autumn approaches. They're online and instore now.


August Garden Jobs
Time to store things away after summer and tidy up branches on trees and shrubs. We've got the tools you need to make light work of it and storage ideas too. Plus, beautiful Hanging Baskets.

Jonny's Tandoori Chickpea Burger
Vs Alistair's Salmon and Cod Burger
Jonny and Alistair have their own ideas on the best alternative burger. For Jonny a protein packed, Tandoori Chickpea burger always wins hands down. Alistair thinks a tasty Salmon and cod burger is simply unbeatable. Get the recipes for your party right now!
Are you loving our #TridayFriday challenges?
If so - come find us on your favourite social media site and join the fun!
You can get all our #TridayFriday recipes, activities and challenges here every week.