Delicious traditional Christmas pudding recipe with a vegan twist.
Vegan Christmas Pudding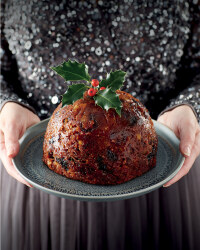 Recipe Information
Ingredients
150g Bountiful Berry Mix
50g Dried Apricots
80g Glacé Cherries
80g Dates
Grated rind of 1 Orange
1 large Apple
80ml Alska Nordic Berries Cider
20g Baking Powder
90g Demerara Sugar
80g Breadcrumbs
80g Plain Flour
1 heaped tsp Allspice
125g Golden Syrup
70ml Aquafaba (juice from chickpeas)
75g Coco Loco Coconut Oil
1 x 1 litre / 2 pint pudding basin
Method
Chop the apricots into small chunks. De-stone the dates and chop to the same size. Halve the cherries. Grate the apple with the skin.
Put the berry mix, apricots, dates, allspice, grated orange rind, grated apple and cherries into a bowl. Pour over the cider and let the mixture soak for 20 minutes.
Put the breadcrumbs, flour, baking powder and sugar in another bowl and mix.
Heat the coconut oil gently to melt. Beat the golden syrup, aquafaba and coconut oil together in another bowl.
Place the pudding basin on some non-stick baking parchment and draw a circle around the bottom of the basin – cut out the circle.
Now turn the basin upside down and cut out another larger circle.
Grease the pudding basin with a little coconut oil.
Put the small circle of paper on the bottom of the basin.
Mix the golden syrup mixture in with the fruit mix, mixing well, then add the dry mix and stir well again.
Put the mixture into the pudding basin and flatten down.
Put the larger piece of paper on top and press down.
Cut a square of tin foil and non-stick paper approx. 30 x 30cm. Fold them over in the middle to make a pleat – this will allow for the pudding to grow as it cooks. Put the paper and foil – the paper should be on the bottom – over the basin and tie it securely with some string. Trim a little of the excess paper and foil.
Steam for 3 hours, checking every 30 minutes that the water hasn't boiled dry in the pan under the steamer pan.