Nothing says 'Happy Christmas' like this easy and indulgent edible gift. You're welcome.
Ballycastle & Chocolate Tiffin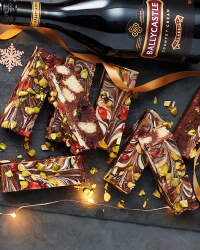 Recipe Information
Ingredients
300g Dark Chocolate
300g Milk Chocolate
100g Unsalted Butter
80ml Ballycastle Country Cream
250g Shortbread
100g Raisins
100g Glacé Cherries
75g Pistachios, chopped
100g White Chocolate
21 x 21cm square tin (lined with greaseproof paper)
Method
Roughly chop the shortbread, cherries, pistachios and chocolate. Melt 200g each of the dark and milk chocolate, along with the butter, in the microwave until fully melted and combined.
Then add the Ballycastle, shortbread pieces, raisins, 50g pistachios and 75g cherries and stir until fully combined. Spoon into the prepared tin and smooth the top.
Melt the remaining dark, milk and white chocolate in separate bowls in the microwave. Spoon the 3 melted chocolates on the top of the tiffin then swirl together.
Sprinkle over the remaining pistachios and cherry pieces, then leave to chill for 2-3 hours. When fully hardened, slice into 12 squares or bars and wrap as a gift.