A popular American savoury snack.
American Corn Dogs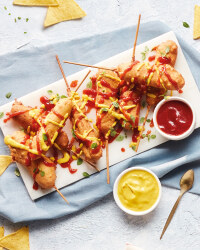 Recipe Information
Ingredients
1 x 400g tin Ye Old Oak Hot Dog Sausages
60g Everyday Essentials Tortilla Chips
100g Plain Flour
200ml Greek Yogurt
2 x Medium Eggs
1 x tsp Baking Powder
Salt and Black Pepper
Sunflower Oil
8 Skewers
Method
Break up the tortilla chips and put into a food processor, along with the plain flour, baking powder and some salt and pepper.
Process until you have a fine powder mixture.
Then add the eggs and the yogurt and process until you have a thick batter.
Allow to rest for 15 minutes.
Open the tin of sausages and drain – pat the sausages dry with some paper towels, then put a skewer up the length of the sausage.
Half fill a medium saucepan with sunflower oil.
Heat the oil to 200°C.
Put the batter into a tall glass.
Dip the sausages into the batter and coat evenly, then deep fry a few at a time for 2 to 3 minutes until golden brown.
Carefully remove with a pair of tongs.
Drain and keep warm while you cook the rest.
Great served with ketchup, mustard or maple syrup.