Peanut butter custard pudding layered with crushed biscuits and caramelised banana slices.
Banana & Peanut Butter Pudding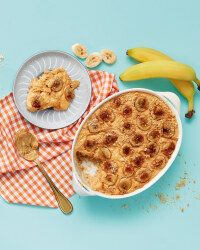 Recipe Information
Ingredients
2 x 500ml Ready to Serve Custard
2 tbsp Peanut Butter
160g Digestive Original Biscuits
5 Bananas, sliced
3 tbsp Demerara Sugar
Method
Combine the custard and peanut butter in a saucepan.
Gently heat until the peanut butter has melted into the custard.
Lay out the slices of banana on a baking sheet.
Sprinkle with the sugar and grill until caramelised.
Blitz the digestive biscuits in a food processor.
Spoon half the biscuit crumbs into a square dish (approx. 20cm²).
Add half the peanut butter custard, followed by half the banana slices.
Add another layer of biscuit crumbs, followed by a layer of custard.
Top with the remaining banana slices.
Enjoy hot or cold.