Help get in the kids' 5-a-day with these amazing berry pancakes.
Berry Pancakes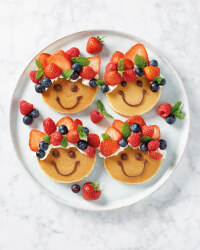 Recipe Information
Ingredients
1 pack Scotch Pancakes
1 punnet Strawberries
1 punnet Blueberries
1 punnet Raspberries
1 bag of fresh Mint Leaves
50g Milk Chocolate
100g Soft Cheese
Method
Break the chocolate into pieces and melt gently in a bowl over a slowly simmering pan of hot water.
Remove the stalks from the strawberries.
Cut the strawberries and raspberries in half.
Using a teaspoon, spread some soft cheese on the top half of each pancake.
Decorate liberally with the berries and mint leaves.
Using a cocktail stick and the melted chocolate, draw a face on the lower half of each pancake, not forgetting a huge smile!