Blueberry and Banana Loaf
Blueberry and Banana Loaf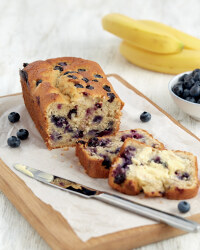 Recipe Information
Ingredients
150g blueberries
2 x ripe bananas
140g self raising flour
140g caster sugar
140g Perfect for Cakes spread
2 x medium eggs
1 x tsp baking powder
1 x 1lb deep bread tin
Method
Preheat the oven to 180°C/350°F/gas mark 4
1.
Line the sides of the cake tin with non-stick baking parchment
2.
Peel the banana and chop
3.
Put the banana, eggs, spread, caster sugar, flour and baking powder into a food processor and blend until smooth
4.
Put a third of the batter into the bread tin and then sprinkle over a third of the blueberries
5.
Repeat this till you have used all of the ingredients
6.
Bake in the centre of an oven for 40 minutes, or until golden and well risen. Remove from the oven and insert a wooden skewer into the cake, if ready the skewer should come out clean
7.
Allow to cool in the tin, and then slice, serve and enjoy!