Good old rocky road slices made with rich, dark chocolate and flavoursome Brazil nuts.
Brazil Nut Rocky Road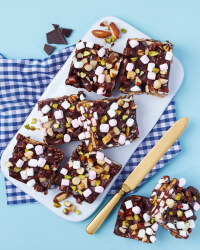 Recipe Information
Ingredients
400g 70% Moser Roth Dark Chocolate
160g Unsalted Butter, softened
80g Golden Syrup
200g Brazil Nuts
200g Ginger Biscuits
120g Mini Marshmallows
70g Pistachios, shells removed
Method
Roughly chop 50g of the Brazil nuts and leave to one side for later.
Break the dark chocolate into small pieces.
Place the butter, chocolate and golden syrup into a glass bowl and place on top of a saucepan of simmering water.
Heat on low until fully melted and stir until combined.
Next, put a quarter of the chocolate mixture to one side for later.
Break the biscuits into quarters and fold them, along with the remaining 150g Brazil nuts and 50g pistachios, into the melted chocolate mixture.
Add 100g of marshmallows and continue to fold through.
Now, tip the mixture into a greaseproof paper-lined square tray measuring 20cm, then smooth the top.
Pour the reserved chocolate mixture over the top of the rocky road, then sprinkle over the remaining chopped Brazil nuts, pistachios and marshmallows.
Refrigerate for at least 2 hours or overnight. Then, cut into 9 squares and serve.