All your brunch favourites are served with this tasty sharing selection.
Brunch Board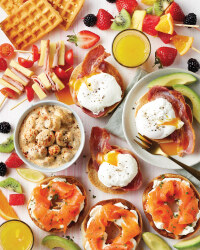 Recipe Information
Ingredients
1 X Pack Toasting Waffles
1 X Pack Specially Selected Sourdough Toasting Muffins
1 X Pack Bagels
1 X 240g Pack Specially Selected Dry Cured Bacon Rashers
Specially Selected Maple Syrup
Specially Selected West Country Butter
1 X 100g Pack Specially Selected Scottish Smoked Salmon
6 X Medium Eggs
2 X Ripe Avocados
Fresh fruit and berries for kebabs – we used pineapple chunks, mango chunks, strawberries, melon and oranges
Greek Yoghurt
Ingredients – Mushrooms with Soft Cheese
1 X 200g Pack Button Mushrooms
25g Butter
100g Soft Cheese
2 X Tsp Paprika
30ml Milk
Sea Salt and Black Pepper
Ingredients – Cheese and Ham Stacks
150g Cheddar cheese
100g Wafer thin ham
8 x Vine cherry tomatoes
Method
Toast the waffles, muffins and bagels.
Poach the eggs.
Grill the bacon until crisp.
Put your chosen fruits on wooden skewers – alongside some Greek yoghurt with grated orange rind.
Fold the smoked salmon alongside the soft cheese.
Cut the avocadoes in half, remove the stones, scoop out the flesh and slice.
Make the Mushrooms with Soft Cheese and Cheese and Ham Stacks as per the below methods.
Position all prepared elements on a large board and serve.
Method – mushrooms with soft cheese
Wipe the mushrooms and sauté in a frying pan with the butter for 5 mins.
Add the soft cheese, paprika and the milk.
Gently cook for another 5 mins.
Season with some salt and pepper and serve.
Method - cheese and ham stacks
Cut the cheese into 8 chunks.
Fold the ham and cut into 8 squares.
Skewer a piece of cheese, ham and tomato together on a cocktail stick.