This hearty Mediterranean dish is a delicious vegetarian option for dinnertime,
Butternut Squash & Penne Pie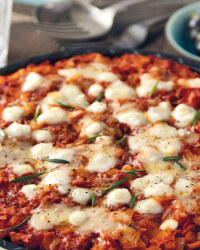 Recipe Information
Ingredients
1 x Butternut Squash
2 x Medium Onions
1 x 400g Tin Sweet Harvest Chopped Tinned Tomatoes With Herbs
200g Cucina Penne Pasta or Rigatoni
30ml S/S Extra Virgin Olive Oil
1 x Quixo Vegetable Stock Cube
100ml Boiling Water
1 x tsp Stonemills dried basil
1 x tsp Stonemills garlic granules
1 x tsp Stonemills paprika
1 x tsp Cucina tomato puree
1 x 125g Grated Mozzarella
100g grated cheddar cheese Salt and black pepper
Find your ingredients online on Click & Collect or find your nearest store using our Store Finder.
Method
Preheat the oven to 180°C/350°F/Gas Mark 4.
Peel the butternut squash, cut in half lengthways, remove any seeds and chop the flesh into small chunks.
Peel and chop the onions finely.
In a medium saucepan, sauté the chopped onion in the olive oil on a low light for 3 minutes.
Add the butternut squash chunks, the tinned tomato, crumbled stock cube, boiling water, paprika, basil, garlic granules and tomato puree, season with a little salt and some black pepper.
Cook for 20 minutes, until the squash is tender.
Meanwhile cook the penne pasta in some salted boiling water as per instructions on the pack, drain well.
Put the pasta in the bottom of the pie dish.
Sprinkle over half the mozzarella and the cheddar cheese.
Top with the butternut squash mixture, pressing it down on the pasta.
Sprinkle the remaining cheddar and mozzarella on top.
Bake in the oven for 20 minutes.